The AFC battle between the Chargers and Ravens is the second installment in Week 16's Saturday of football, and we're breaking down the best prop bets.
The Chargers (11 – 3) are fighting for home field advantage in the playoffs coming off their dazzling victory over Kansas City last Thursday. Opposing the Bolts are the Ravens (8 – 6), who remain in competition for the AFC North title. Both teams are highly motivated in what should be a competitive affair.
The books are favoring Los Angeles by 4.5 in a contest that comes strapped with a low total of 42 in spite of the Chargers' commanding the fourth-highest scoring offense of the year, and the Ravens the thirteenth most.
The precariously low total accurately accounts for the style of play of each team.
Notably, Los Angeles ranks last in pace this year. Although they rank thirteenth in neutral pace, the Chargers are near last in every non-neutral game situation and have run the third-fewest plays per game the sixth fewest plays on average.
Similarly, when Lamar Jackson took the reigns in Week 11, Baltimore transitioned from one of the pass-heaviest offenses in the league to a dynamic running offensive juggernaut focused on dominating time of possession and limiting opponent offensive plays. The Ravens are 4 – 1 behind Jackson and have allowed 54.4 opposing plays across this span, which would be the lowest mark in the league by a wide margin for the season.
Baltimore is equipped with a lethal defense – debatably the best in the league next to the Bears' – to complement their ball hog offense, cementing their strategy as one that aims to limit opposing offensive possessions.
Naturally, these stylistic factors point to unders as the ideal looks for the prop betting market in this contest. The lines do account for reduced expectations, but there are still spots to exploit.
Be sure to check out our best picks for Saturday's Monkey Knife Fight contests.
Ravens QB Lamar Jackson
Under 68.5 Rushing Yards (-115)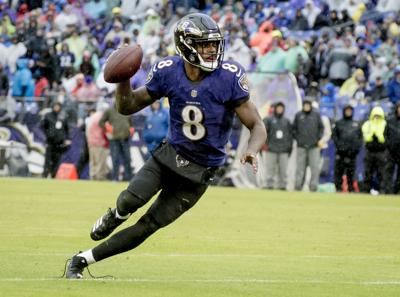 Jackson has surpassed this total in all five of his starts this year for an average of 85 rushing yards on 17 carries per game, so on the surface this appears like a poor pick. Digging deeper reveals that the Ravens' opponents over this span have surprisingly all been bottom of the league in yards per play allowed to opponents.
| | | |
| --- | --- | --- |
| Week | Opponent | Yards/Play Allowed Rank |
| 11 | CIN | 29th |
| 12 | OAK | 32nd |
| 13 | ATL | 25th |
| 14 | KC | 24th |
| 15 | TB | 30th |
In terms of rushing defense specifically, all five of these opponents are equally as poor as their overall defensive efficiency. It is reasonable to question the true strength of the Jackson led offense given their average efficiency versus soft competition thus far.
The Chargers pose by far the toughest test the revamped Baltimore offense has seen yet. Los Angeles ranks ninth in rushing yards allowed per game and tenth in overall yards per play allowed. Expect Los Angeles to have a plan to combat the designed Jackson runs and the personnel to effectively execute a strategy that forces Baltimore to air it out.
As noted, Los Angeles is a sizable 4.5 point favorite, too, which should result in negative-game-script-induced reduced rushing volume for Baltimore.
The spread, Los Angeles' pace, and Los Angeles' defensive efficiency all point to Jackson hitting the under on his 68.5 yard rushing line.
I would play the under on this line up to -130, but would hesitate if the yardage number drops below 68 yards.
Ravens WR Michael Crabtree
Under 31.5 Receiving Yards (-115)
All the logic above – other than the spread argument – also suggests a dip in passing game efficiency for Baltimore relative to their previous five games.
Now, consider that Jackson has averaged just 6.3 yards per attempt across this cakewalk five game stretch. That would rank seventh worst in the league on the season. Jackson was a horrendous passer in the preseason and there is no signal to the contrary after his five regular season starts.
Crabtree hasn't topped 36 yards with Jackson at QB.
| | | |
| --- | --- | --- |
| Week | Targets | Yards |
| 11 | 3 | 7 |
| 12 | 6 | 21 |
| 13 | 4 | 36 |
| 14 | 4 | 31 |
| 15 | 1 | 0 |
Allowing an average depth of target of just 7.0 yards this year, the Chargers defense leaves no room for Crabtree to improve on his pathetic efficiency.
Crabtree trails both John Brown and Willie Snead in targets from Jackson and in snaps, so any receiving upside in a negative gamescript is more likely to benefit the other two Baltimore receivers than Crabtree.
Like the Jackson prop, I would pay the under on this line up to -130, but would shy away if the yardage number drops any lower.
Chargers QB Philip Rivers
Under 265.5 Passing Yards (-120)
Working against Rivers is not just the anemic projected pace of this game, but also Baltimore's stout defense.
The Ravens have allowed only three passers to exceed 265 yards, with two others throwing for exactly that mark this year.
| | |
| --- | --- |
| Metric | BAL D Rank |
| Yards Per Pass Attempt Allowed | 1st |
| Catch Rate Allowed | 1st |
| Passing Touchdowns Allowed | 4th |
| Passing Yards Allowed | 3rd |
The game splits show that the Chargers enjoy shifting to a slow-paced run heavy approach whenever possible if they grab the lead, as Rivers has averaged far fewer attempts in wins than losses this year.
As such, Rivers has thrown for 265 yards in just four of Los Angeles' eleven wins this year. As home favorites versus the top-of-the-line Baltimore pass defense, expect another under.
I prefer the yardage line to the 32.5 attempts line because expected reduced efficiency leaves room for Rivers to still throw for under 265 yards even if he surpasses 32 attempts.
I would play the under on this line up to -135, but would shy away if the yardage number drops any lower.